« Discover Scuba Diving » is a quick and easy introduction to exploring the underwater world.
To participate, you must be at least 10 years old. No prior scuba diving experience is necessary, but you must be in good physical health. Are you ready to take the plunge?
 
Every day from 9 a.m. to 12:30 p.m. (closed on Sundays)
Price: 2600 MUR all inclusive: equipment + initiation in the pool + a dive in the sea up to 12 m.
 
Book a discovery dive now!
ABOUT SSI
Pro Dive Mauritius has been an SSI dive center since 2022.

One of the notable differences between the two training systems PADI and SSI is that SSI requires, in order to certify an instructor, that he be affiliated with a dive center whereas a PADI instructor can teach wherever he sees fit, including independently.
SSI – Scuba Schools International – is an international business association promoting the education of scuba diving. It has been around for over 40 years, established in 1970, and it continues to grow and grow in the world of diving. It is now present in more than 110 countries. SSI has developed educational materials in over 25 languages. Your SSI diving certification will be recognized around the world.
SSI offers a very high standard of training, and like PADI, with advanced pedagogy. Children can start diving from the age of 8 with the Scuba Rangers program, and obtain their first Open Water Diver diploma from the age of 10. The basic concept is very close to that of PADI, everything is focused on pedagogy and evolution in learning to dive, with higher levels, and specialties to deepen your knowledge.
To reach each level, it is necessary, in addition to a certain number of dives, certain qualifications. Each level is materialized by a card in credit card format.
The trainings allow to go from the level of beginner to the monitoring through many qualifications of specialties.
ABOUT PADI
Pro Dive Mauritius has been a PADI 5 star dive center since 2013.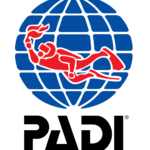 PADI courses are performance-based, allowing you to progress at your own pace. This type of learning produces competent and prepared divers. Completion of the course varies from practitioner to practitioner and it normally takes between 4 and 7 days.
PADI (Professional Association of Dive Instructors) is an organization of American origin created in 1966. It is the largest diving organization in the world, recognized at the international level. Since its creation, PADI has done a lot of work on marketing, training content, and how to approach recreational scuba diving. The organization has strived to make diving accessible to as many people as possible, in order to develop the number of divers.
PADI is also behind the Project AWARE Foundation, whose mission is to raise awareness around the world to protect the underwater world.